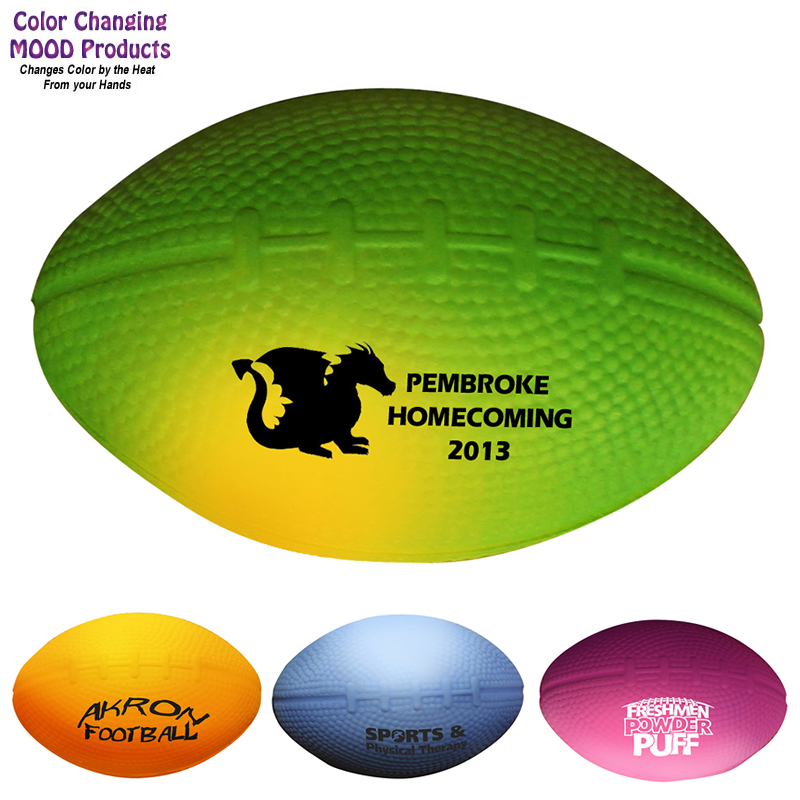 Best Advertising Handout Right Now For Your Business? Promotional Footballs will make the perfect giveaway for your business logo. These mini footballs are fun and fantastic! Order mini footballs for under $2 each for football season and let the parties and advertising begin! From wearing team spirit promos to work to going to tailgating parties you're going to need football promos from The Executive Advertising! And these marketing mini footballs are the perfect party starter for your logo.
Personalized mini footballs would make the best handout at college tailgating parties going on every weekend! Just simply let us know your customized team logo or team mascot and we'll imprint your color logo for Free with of course No Set Up Fees! These footballs could be the most talked about item of the season! You know what makes these mini footballs stand out from the rest? They're mood changing! That's Cool! Just by the heat of your hand the football's color will change! These will be fun to toss out to the crowd as a Free advertising gift! You know tons of people will show up for the high school game, say on a Friday night and would love the freebie with the school name. Score some extra points and advertise just by giving these away to your clients also when they stop in at the office!
You need other football advertising ideas? We have the best football advertising promos for your company, college or school name. We also have a fantastic Pinterest Board for football season to give you a lot of ideas for your brand this year. Follow us and check out our boards anytime! New Pins Daily! Here at The Executive we look forward to football season kicking off every year and we look forward to helping you get the very best special promos you need for your new clients, events, parties and just the perfect gift to your customers! Now get ready show team spirit and toss some mini footballs out with your name to everyone!