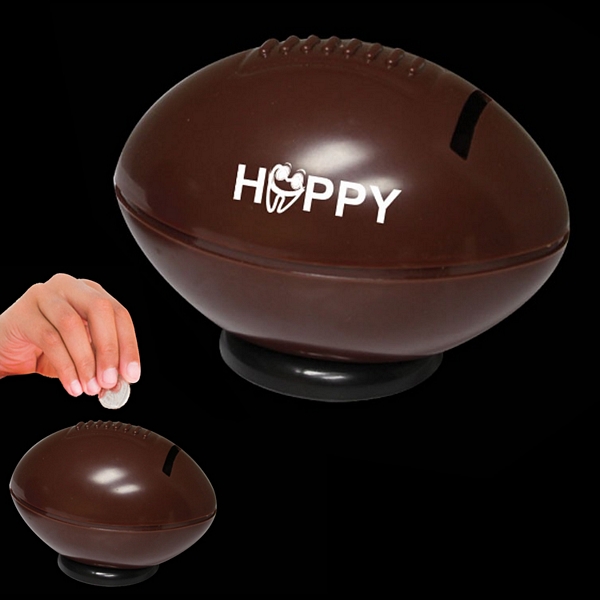 Advertising Ideas For Local Banks & Financial Companies: It's getting close to the busy holiday season again and so a lot of people may be looking for that extra cash flow savings that they can simply make all on their own.  Companies such as Banks & Financial can help promote their business around this time of year for promoting on how to save people money for the holidays in easy ways and have personalized coin banks for their customers.
Typically the promo piggy has been most bank statements by advertising with the money saving pig, but connect with your customers in a new way with optional coin banks that make it more personal for what they love! Like, advertising football banks for football season! I have seen local banks promote their name and gain new clients by having the customer open a new account and receive money in return! Why not throw in a Free gift of a imprinted coin bank!
You'll be helping them remember your name with your 1-Color Free Logo and then be saving them money all at the same time! When you get and have all kinds of change laying around, just insert in the promo bank for stack up savings. When it's full and you cash in your savings, you'll be so pleased on extra cash just like that!
Make your long lasting relationships with logo imprinted piggy banks or different coin banks from The Executive Advertising. Kids will love these and want to start their savings as well. With our coin banks, customers will be passing along to other customers the quality of your business. Then you'll have new clients coming in the door to talk optional accounts for their money saving opportunities. These personalized money banks will look great on any office desk for personal use of the employees and they can save money too while on the job!
You just won't believe how much use the promotional coin bank will get on a daily basis! I can't think of a better gift to give someone right now! Having a yearly fundraiser? Helping someone for a special cause? Donating for Christmas? Once again the promo piggy bank or shaped banks will be a great use for collecting coins or small bills at your local bank for someone in need or to help any event! Not sure what bank would fit your business needs? Just contact us here at The Executive Advertising and we'll be glad to help with all your money saving products.