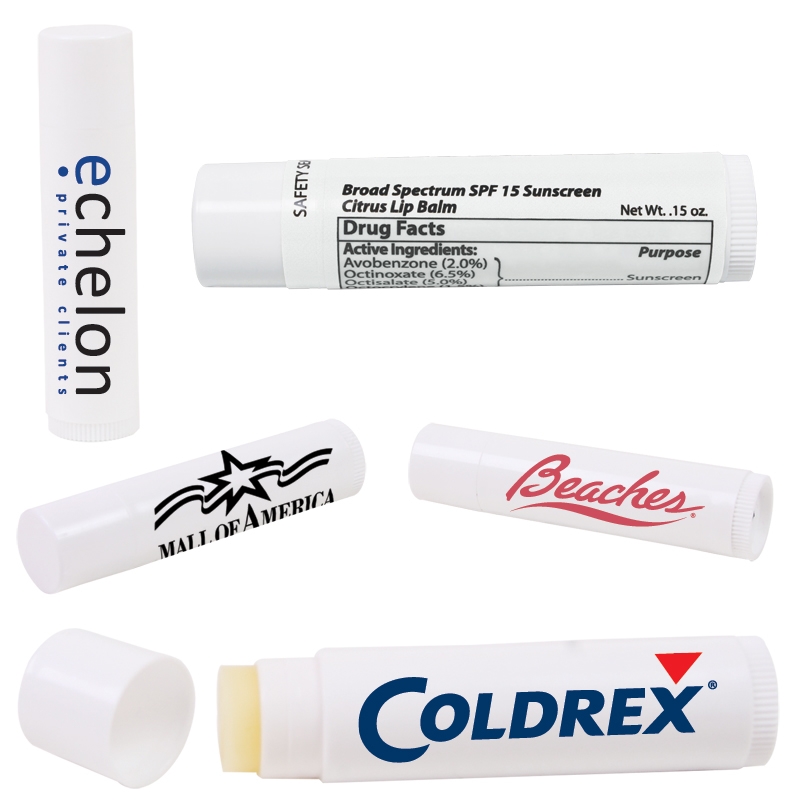 Promotional Chap stick & Imprinted Lip Balm: Is doesn't matter what season it is, I always have my personalized lip balm with me. But in Fall/Winter it seems to get used way more because of chapped lips, they are usually dry, cracked and burning when the weather changes. But with custom moisturizing lip balm to use everyday, they'll feel better fast!
These promotional products are sold in most retail and convenient stores for a customers satisfaction and quick relief. So if you're any of these kinds of stores, you will want to check out The Executive Advertising's supply of logo lip balm and advertising chap stick for your business logo. This is the promo everyone needs now!
The winter time can be especially cruel to the lips, so this time of year cosmetic stores will probably have specials deals on how to receive your free tube of  advertising lip balm. So don't let the winter season beat your lips up, grab your moisturizing tube today! At The Executive Advertising we have many different choices of custom lip balm and chap sticks for your brand. SPF sunblocks, natural, fruity and  evens lip balms on hooks for your convenience of keeping your chap stick for sure in a useful place.
Get your business noticed and the attention of your customers now when you apply smooth chap stick to your lips. Look how awesome your full color digital artwork will look on your promotional lip balm tube! Order fantastic imprinted chap stick now for company events, trade show giveaways, client gifts and for yourself! Let us know how to customize your tube of moisturizer.
With the Christmas holiday around the corner, we might just have am awesome personalized gift idea to all your employees this holiday season and that is the custom lip moisturizer and mint combo what a nice imprinted company gift to use right at their desk. So promote your business in the dreary winter months with useful and flavorful or natural advertising lip balms and promotional chap sticks.