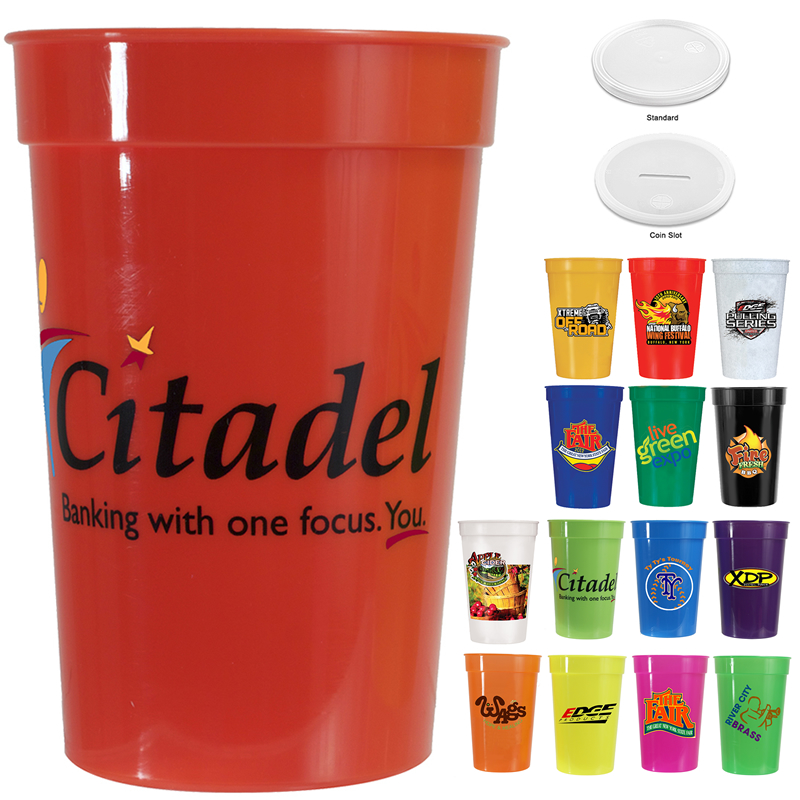 Order A Stack Full Of Personalized Stadium Cups: Next month NFL football playoffs will kick off, so in this case you'll need to have one of our top sellers,  the customized stadium cup for your tailgating parties, football office parties and company giveaways!
Our awesome colorful advertising stadium cups are durable plastic & refillable refreshing cups that will be perfect for those football playoff parties. Need a marketing giveaway for your name? Order our imprinted stadium cups for your 1 color free logo, you'll most defiantly benefit with these colorful cups.
We have small to large sizes for all your business needs and party ideas! Some advertising cups can come with the full printing option for any extras you want to add! Have you ever opened someone's kitchen cabinet to get a cup or glass for a drink? What do a lot of people have as drink collections? Yes, the promotional stadium cup! They probably received them as a free gift from a party, sporting event, school event, carnival, movie theater and so much more!
Businesses make an investment when they handout logo stadium cups with the company name, your clients will never forget your eye catching logo when it's imprinted for free. These cups are top rack dishwasher safe and will last for years to come. So then your clients are making an investment by never having to buy paper cups.
So, are you thinking football playoffs? Tailgating party? Office party? Order your stack of custom cups and spread your message, team spirit and of course your business logo with The Executive Advertising's fabulous selection of colorful advertising stadium cups for your business. So now all you have to do is view all of our marketing stadium cup ideas in our promotional drinkware section of our online catalog.