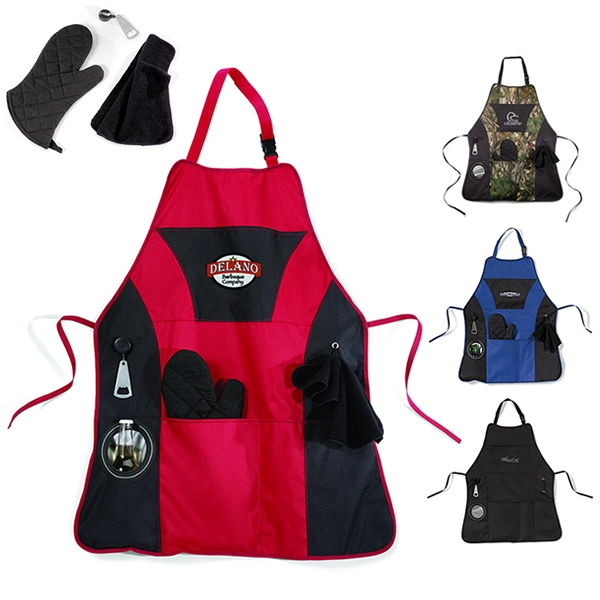 Show Professional Techniques With Our Custom Aprons & BBQ Kits: Custom Aprons are perfect for the indoor and outdoor use of cooking, cleaning and more. Order imprinted aprons for your business of carpentry, painting, chefs, waiters, groomers, housekeeping and of course those backyard and company BBQ's.
There will be a lot of events going on this summer, such as company picnics, auctions, tournaments, booth sales and more. Your employees need to be looking their best with advertising personalized aprons.  You know all about those imprinted aprons if you're in the food industry. Professional waiters, bartenders, chefs and more will stand out in our advertising aprons customized with the business name.
A new addition to our marketing aprons is the promotional master polyester apron kit this is more than an apron, it's a chef's or cook's best friend to have around. Kit includes: apron, detachable bottle opener, padded oven mitt and towel(towel size: 11″ x 11″) Front features multiple pockets for storage including insulated pocket for keeping beverages cold. You're going to love your new apron customized with your company name and logo for free. Those company BBQ gatherings are going to be awesome this year with this new handy addition.
You can make any event stand out and look professional with custom aprons from The Executive Advertising, it's our specialty in having the best executive professional look for business name. You want guests to know and recognize waiters, cookers and more, they will stand out with our colorful adverting choice aprons. So if you're looking for a business item that you need now to have an event, promote your company and stand out from others, then you need logo aprons for your business.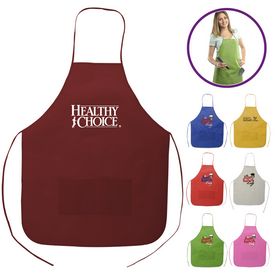 Depending on your profession, we have different aprons, from our low budget aprons, plain front, front pockets, long, short and waiter wasted. Different businesses need different types of aprons , such as hair stylist and pet groomers need pockets for their scissors, brushes and other tools. While painters and meat cutters may only need flat front to cover their clothes. If you need a certain apron and aren't sure on materials their made of then view our website for cotton, non woven, denim and more for your business. Summer is going to be so fun with all the company events this year, so think about getting your advertising aprons decorated now for your company logo.