Are You Thinking Spring Cleaning For Your Business?: Businesses are gearing up for spring being here and prepping up with a fresh look and getting everything clean. Spring and then summer brings extra busy time to businesses of all kinds.
So in order to get your business clean and organized just the way you want it, you'll need some customized household items with the business name added for free. Pass these out for new client giveaways. Here at The Executive Advertising we have a special section for our promotional household items that you may need for your cleaning, housekeeping, janitorial and maid services.
Every business probably has a cleaning service that comes in and cleans after hours, you may be looking for new advertising items to get the cleaning, dusting and washing done perfectly, so with our imprinted household promos you can get the job done easily. Some of our advertising promos will be fantastic to add to your cleaning supplies, like our personalized telescopic dust wand for great dusting techniques, it has extendable handle for hard-to-reach places.
Great for cleaning all those corner cobwebs at the office, customize your business logo on this dust wand. Keep your office clean with the promotional convenient brush and dust pan. It easily assists in minor spills or messes and is the perfect size for fitting in cabinets or desk drawers. Having these advertising cleaning supplies will be so worth having around at the office or for your cleaning company.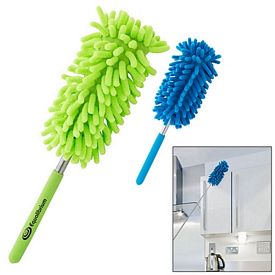 Once everything is clean, its a great idea to keep it all organized for easier days at work. One way to keep things organized is with our custom bag clips these keep all the stacks of paper neatly together in a arranged order. Our fantastic clips come with your free advertising logo right on top. That way the next client that needs to be organized, you'll have imprinted bag clips ready for a free handout.
It's almost May so if you're thinking of spring cleaning your business, tiding things up around the office, organizing or looking for fresh new marketing promos, then view our website for all the best new promotional products and fantastic household items to get your business in order this spring, especially before you get really busy this summer. And if you're a cleaning business consider are promotional pens and custom magnets for your business name. Need any help with anything, questions or wondering what are some of our new products for 2015, just let us know here at The Executive Advertising, we're ready to help you find the next perfect marketing idea.