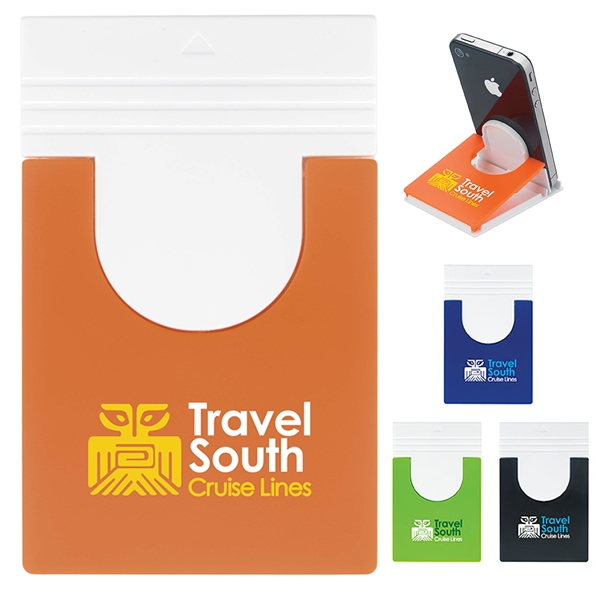 Promotional Holders & Cases For Your Daily Technology: We have some great new products this year that will make fantastic gifts to anyone. Let's face it, it is a world of technology and the gadgets that go with it!
Your employees and clients will love our new Promotional holders & cases for their iPhones, iPods and iPads. The awesome upgrade technology these days is even better with staying connected in the world and it's even quicker! Check emails, data and gather information quicker than ever before.
With our great new customized desktop stands it will make it even more convenient for everyone to keep their work right in front of them at all times. They'll love the NEW 2015 promotional products and our stylish advertising stands for their desks! For music lovers: the custom ear bud splitter/phone stand will be a hit with it's suctions to the back of the phone or tablet for use as a stand.
Remove suction cup cover to plug into audio jack and use with two sets of ear buds (Ear Buds Not Included) And then for the basic needs: This would be at anyone's desk, try the promotional phone mate folding desk stand, extra nice easel stand with non-slip rubber pad, slide button to expose screen cleaner, folds for easy storage. These are going to make perfect small appreciation gifts at the office! What is even more cool about all of them? They're all under 2 bucks each!
With technology getting better and better every year, you're going to want a nice new desk stand for your great new i phone or ipad at the office. They use very little space on top of your desk and we have hot new trendy colors for your free logo. We know how important it is to stay connected here at The Executive Advertising and we want help you stay connected to everything that makes your day connect and complete. Need any other new advertising ideas for this year just check out our website for all of our fantastic NEW Products for 2015!