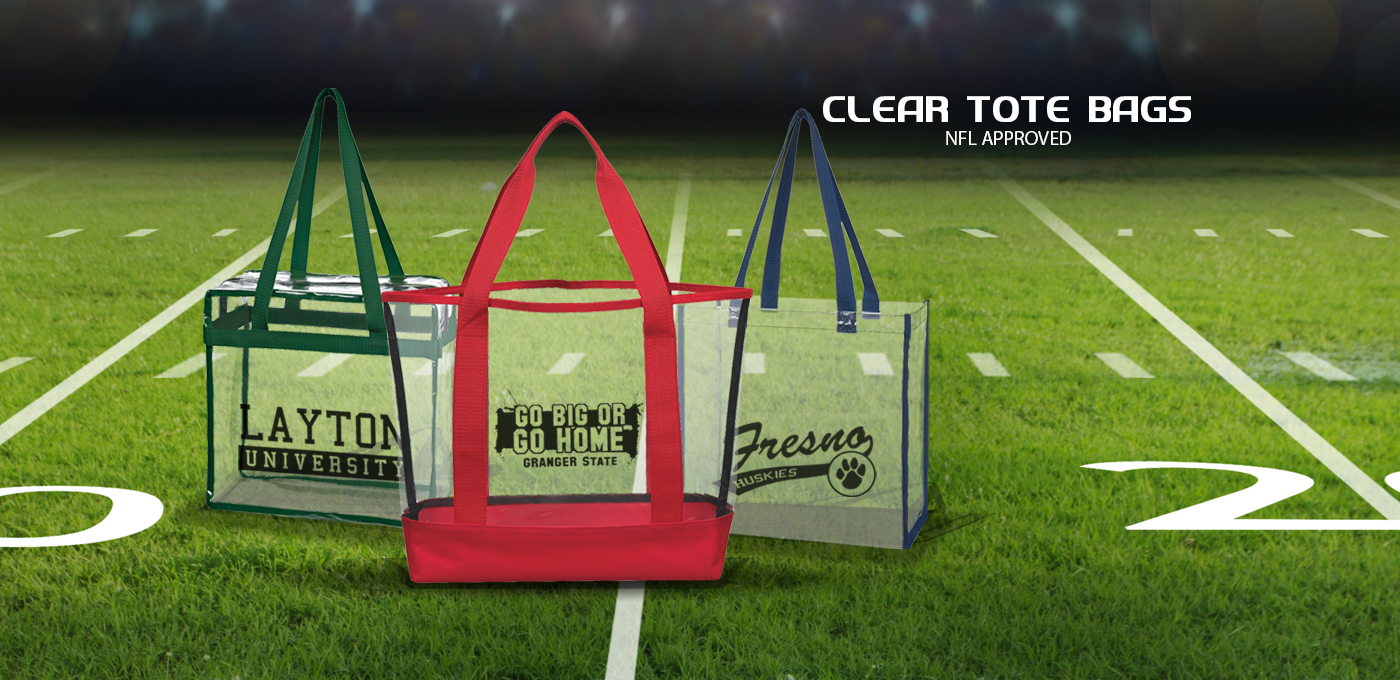 Promotional Clear Tote Bags Make Impressive Giveaways: Our custom clear tote bags are a hot selling item to have right now! NFL approved for the best safety of everyone attending football games. These advertising clear bags will be one of the top marketing ideas to have for your company name this time of year. Our clear totes will make excellent giveaways for all the football fans! Get this modern look for your logo which will appear on the clear front of the bag for fantastic brand exposure.
These marketing game day clear totes will win the hearts of customers for making it more safer to attend a sporting event, they would also be great for the workplace and traveling on an airplane, makes it way easier and quicker when going through security check.  Most clear totes come with the zippered feature to keep everything all together, like wallet, snacks, keys, sunscreen and more made with PVC material and they come in a lot of bright colors, in case you're trying to get a favorite color.
It's time to take advantage of this new needed promotional item and get everyone using them all around. With NFL approval, we're sure all local stadiums, ball parks and colleges will want to use them too! You'll show some team spirit for your team when carrying these in hand or on your shoulder.  Let's get the crowds ready for the 2015-2016 football season, order budget friendly personalized clear totes and bags for your logo.
If you're looking for the perfect fall gift idea, the customized clear stadium bags will be a cheap and useful item for all families that go weekly, maybe even daily to their children's sports practices, games and outdoor events. This is going to be the new way to bag your items when attending the games and it'll keep everyone safe and quickly going through the lines at security check.
If you're excited about football season then we know your customers will be when they attend the games with promotional football promos from The Executive Advertising! Kickoff your event with football advertising ideas and useful logo clear totes for everybody. Contact our sales team and we'll be glad to assist you in picking the perfect marketing clear tote for your events, gifts and giveaways.