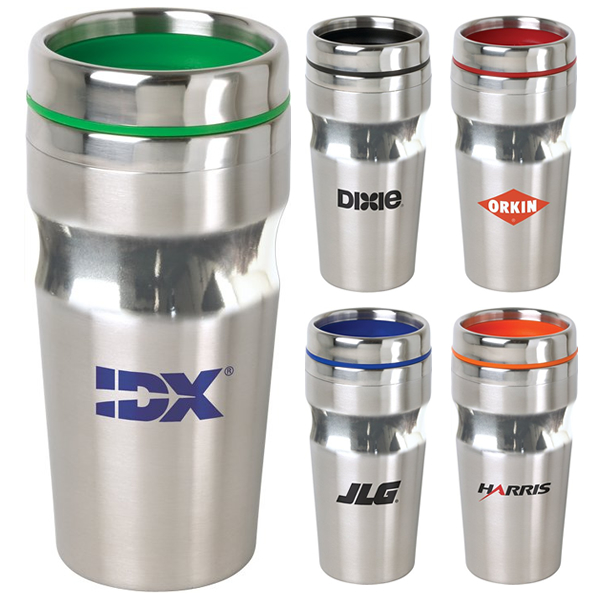 Every Business Needs Custom Tumblers: Personalized coffee tumblers from The Executive Advertising is a great way to build brand visibility. Why? Because life is super busy and when they need their coffee to go they can with our promotional travel tumblers with your company logo showing right on the front.
If you want to target groups of customers to your business, gift them with customized coffee tumblers for its the perfect time of the season! Our marketing tumblers are classy and attractive for your business logo. Because appearance is what wins the heart of the customer right?
They can fill and refill their favorite hot beverage as much as they like when they have a imprinted tumbler with them all the time. We have a popular variety of promotional coffee tumblers to fit everyone's taste. There are some pretty nice choices if you want a plastic liner or a stainless steel liner.
With the cooler season quickly approaching, you'll have the perfect marketing idea with imprinted tumblers from The Executive Advertising! Customize your company logo for free with no set up fees. No need to wonder about colors, we've got every color possible in stock  for your custom tumbler. Now that you might be thinking of ordering our branded coffee tumblers you'll love that most of are tumblers are on the 24 hour rush service to get to you quick for your fall season gift giving.
There is nothing more cooler for a business to have company tumblers with the name and logo on the front for all the employees to use. Advertising tumblers are perfect for home, office and traveling in or out of town, so think about your next promotional gift idea and order your logo tumblers with us and get the best brand exposure now for your company name. Need any help on choosing the perfect coffee tumbler for your business just let us know and we're always ready to answer your call and assist you!