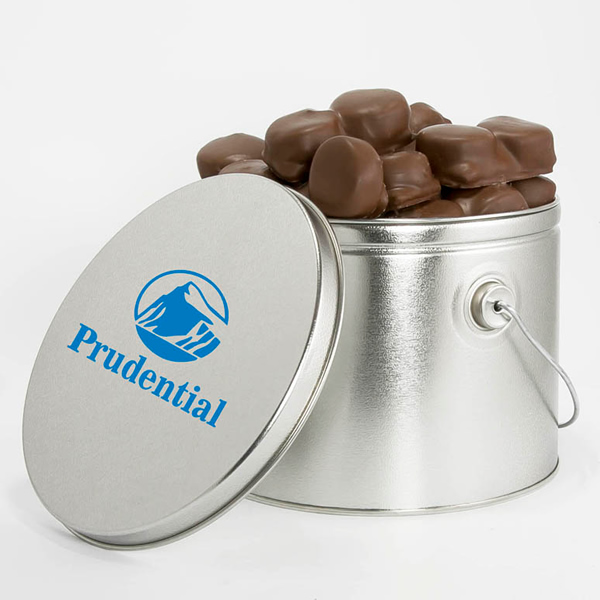 Treat Clients With Promotional Chocolate & Candy Gift Sets: Customers want to be treated every now and then to feel appreciated for doing business with your company on a regular basis. So maybe its time your business tried something new like personalized chocolate for branding your company name and keeping in touch with your clients!  We know it makes since because most people are huge chocolate lovers and could indulge some most everyday!
This advertising idea is a fantastic way to stay connected for a very long relationship. Customized chocolate is a great holiday gift idea if you want it to be something special once a year for gift giving or branded corporate gifts. Another great time to have logo chocolate would be for promotional events, trade shows, sales, parties and grand openings. Just customize your free logo on any of our imprinted chocolate lovers ideas and pass some out!
The possibilities are endless with our customized chocolates and candies. We recently got in new promotional chocolate candies and gift sets. Companies look forward to the holiday season, it is a boost in sales and having their name noticed probably as much as during the year. We're known to scramble around during the holiday season to find the perfect gift, but here at The Executive Advertising we have all the perfect gift ideas for you and your business.
If you haven't thought of or viewed our awesome line of personalized chocolates yet, then now is the time to see all the different kinds and shapes of marketing chocolate for all the special people in your business life. And if you think you like the idea of branded chocolate, but want to view advertising food, mints, cookies, jelly beans, containers and gift sets then you're at the right place on our website in finding all your food gift ideas.
So order your promo chocolate and stand out from your competition, give them a memorable gift of promotional chocolate this year, maybe at Christmas time or anytime, because chocolate says a lot about how you feel and appreciate someone and their business. It says thanks so much and enjoy the goodness of chocolate! View all our advertising chocolate ideas and our budget friendly prices for your name and logo.