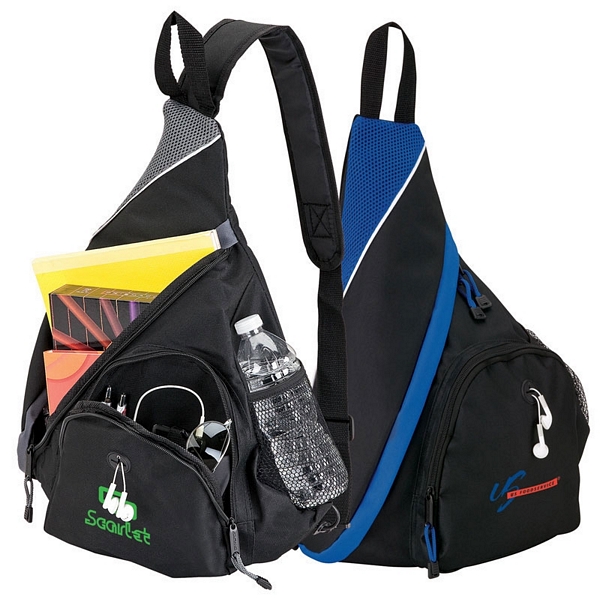 Carrying The Load Just Got Easier With Customized Sling Bags: The Executive Advertising has a wide variety of promotional sling bags, which are designed as the grab and go sling backpack.  Advertising sling backpacks sling over the shoulder for easy convenience of packing up quickly and heading out. They defiantly target the younger crowd for having for school, sporting events, gym time, travel and more!
A lot of people have looked into downsizing their bag or purse on many occasions and have found that the imprinted sling bags are small and perfect and just the right weight in carrying with them. They would be perfect in carrying them to the ball park on the weekend. Give your brand the  top exposure to the next brand and customize personalized sling bags with your business name and give as gifts, they are budget friendly on your company price. You'll find that our custom sling backpacks are very popular for everyday use and come with your free logo or maybe even a message of your choice.
With the marketing sling bags coming with zipper compartments and front pockets, you can quickly stash pens, keys, cell phones and media players for grabbing them quickly the next time. And if your loving the idea of the large compartment your sling bag offers you, you'll love defiantly carrying it everyday, because it greatly holds books, laptops, iPads and more still easily hanging over one shoulder. Thirsty? They have a mesh side pocket for putting your needed water bottle. Promotional Sling Bags are durable and long lasting with 600D polyester and dobby material, awesome attractive colors such as red, green, blue and more.
Most come with the black and grey trim that give it the sporty look! If you are looking for imprinted sling bags for business gifts and need them quickly, our advertising bags are mostly on the 24 hour rush service. The fun style budget sling backpack is on sale now for $2.90/each and also a 24 hour free service. With the commute your clients and employees make each day, personalized sling bags are a must for your brand! Let us know how we can help you design your business sling bags and get to carrying things so much easier.