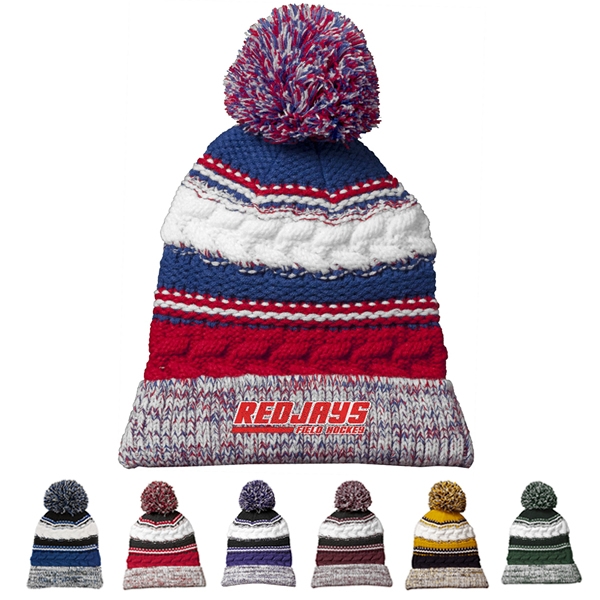 Why Your Business Needs To Handout Custom Beanie Caps: Your logo will still stay hot when the weather gets colder by having personalized winter accessories from The Executive Advertising! Custom winter gifts will be the perfect giveaway right now for your business name. It's cold and you need one! Trending now for your color logo is our customized beanie caps the smart cap in the winter to keep your head  and ears warm.
You'll find our promo beanie cap and logo headwear options in our apparel/clothing section of our website. We have a full section of different advertising beanie cap ideas and colors. Stock up on logo beanie caps and keep your business logo in front of everyone's mind! Our imprinted beanie caps start as low as under $6 per piece that comes with your logo for free and no set up fees.
Beanie cap winter gift ideas come in solid or striped color accents and are fantastic for schools, sports teams, churches, traveling and other marketing ideas. If you live in the North, you're defiantly already wearing these promotional caps. Stock up your retail stores, hockey teams and outdoor skating rinks with budget friendly beanie caps.
When winter turns real cold, you don't want to be stuck outside without your promotional beanie cap, and its going to get a ton of eye contact with your colored logo showing right on the front. Need any other branded winter accessories? We have you covered here at The Executive Advertising with our logo caps, hats, blankets, ear muffs, ice scrapers, coffee tumblers and so much more. I think we may be in for a longer winter this year, so customize your logo now on advertising winter gift ideas and start handing them out for a long lasting customer relationship.
Our sales team can assist in any branded winter accessory ideas you need and need to know about. We'll help in making your logo look great on all your orders. All you have to do is decide what you need for your business and we'll start the process with you. Get your winter handout orders in and keep everyone warm all winter long with your brand!