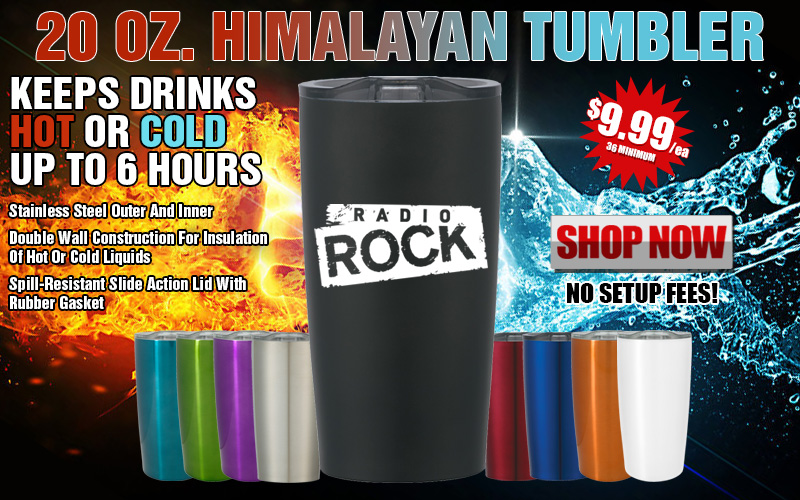 Check this out, this is our all new promotional Himalayan Tumbler, this tumbler is the most fantastic drinkware around! These very special drinking tumblers are 20oz and designed to keep your drinks just the way you want them for several hours. The custom Himalayan is equipped to keep your drink up to six hours, whether it's hot or cold! If it's a nice cold drink, even the ice stays cubes preserved for up to 24 hours.
Your employees at your company will benefit from these awesome stainless steel tumblers, filling up with their perfect drink and it staying perfect by the temperature they want, these will make the day even better while working!
The Himalayan comes in 9 different colors and 5 different lid colors and can be customized with the business logo for free with No Set Up Fees! Not only is this tumbler BPA free, it meets all FDA requirements and is hand wash recommended to remain in its perfect condition. The lid is spill-resistant with a slide action opening and rubber gasket to insure leak-free warranty.
This popular tumbler is comparable to the higher priced brand, Yeti, except the Himalayan is easier on the budget. So, when shopping for employee appreciation gifts or Holiday gifts this year, consider the new branded Himalayan tumbler and Executive Advertising will customize it just the way you want it!
What are you waiting for? These are the hot new drinkware tumblers everyone is talking about and with fall coming, they'll especially be loved with hot drink choices like coffee, hot chocolate, espresso and tea. This tumbler will be the best gift ever, so advertise your business name for great company exposure.