Logo Printed Towels & Beach Towels: Be ready for summer with our customized beach towels, our towels are fantastic brand exposure and super family friendly. You can be ready for poolside, going to the beach, lake and lots of activities in the summer with our logo beach towels.
You don't want to be without your advertising towel at the beach, soak up those rays with our imprinted beach towel choices. You'll be amazed by our big beautiful advertising beach towels, customized with your 1-Color Free Logo with no set up fees. Even design and have a special message on your marketing towels and beach towels.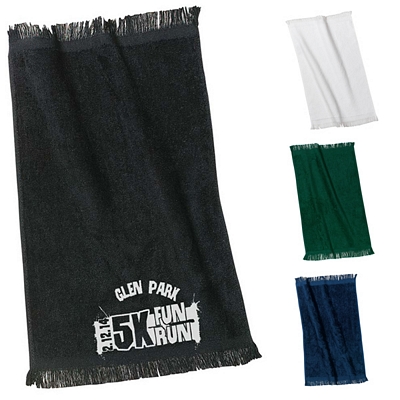 Our smaller towel choices are perfect for rallies and golf tournaments, these towels come in many different colors, show support for your favorite school or golf event. It can be hot and sticky out on the golf course in the summer, have our grab n go custom golf towels ready and handy.
Executive Advertising is the place to shop for your personalized towels and elegant beach towels, they'll make the perfect summer gift to anyone, all while you promote your company name. Summer is quickly approaching, make sure you're ready for a day outside with our promotional towels.
Planning a summer or city event? School field days, 5K runs and summer sports will benefit greatly with our logo towels. Make an event announcement on our personalized towels and beach towels. And don't forget to pack your travel bag with your imprinted beach towel, nothing says summer like a big bright, beautiful logo beach towel from Executive Advertising!
So get your Artwork E-Proof approved today for your order of towels and beach towel this summer and promote your business name and logo all summer long!