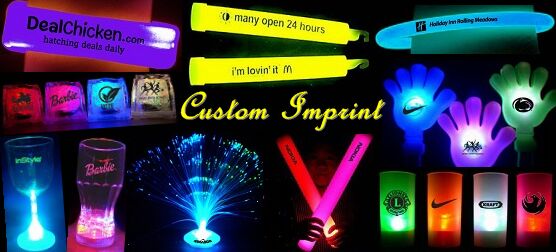 Have A Blast With Personalized Light Up Toys: Your company will shine with our custom light up toys, with your 1-Color Free Logo. With our variety of promotional glow toys and custom light-up toys, you'll be able to advertise in new ways and attract new customers. Not only are these promotional toys unique, they are affordable, too.
Let us advertise at your next nighttime event such as at your New Years Eve celebrations. You can pass out items like our logo glow sticks and custom glow beach balls to the crowd. These promotional glow items will be fun for the crowd, and they will help give your company exposure. You'll find that these light up toys are fun for all ages.
Help your audience always remember you even after the event with these free lighted toy giveaways. With our low prices, you can order these custom light-up toys in bulk and be ready for any promotional event. The more imprinted light-up toys you order at once, the cheaper they become.
You're going to want to check out these fun promos that light up your company name, view our website for the ideas, colors and imprint ideas. From shot glasses, sunglasses, pens, bracelets, glow sticks and so much more, you'll get the party started on New Years Eve from Executive Adverting! Happy New Years!