Custom Collapsible Water Bottles: Promotional collapsible water bottles are perfect to give away at your next event. What type of events would love these water bottles or fold-able water pouches? Kids will think this is the coolest thing to carry water in. They're flexible space savers that are refillable and come with carabiner for easy clipping to bags and backpacks.
Logo fold-able water bottles are perfect in schools, churches, nursing, sports, camping and all coaching. Ranging from various shapes and sizes, our colorful range of promotional collapsible bottles give you ample options to choose from. The sizes of imprinted water pouches are available in 12, 16, 20, 24, 26, and 28 oz.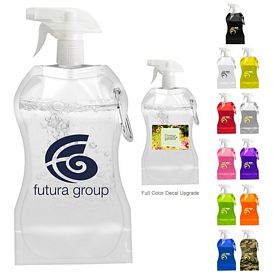 We customize our collapsible water bottles with the company name and logo to make these suitable for promotion or advertising among their customers. We'll brand them for Free with no set up fees! Need those advertising gifts now? It's coming to the end of the school year and spring sports soon, these colorful fold-able water bottles with custom name or message will be perfect for all the kids this year!
We even have the new custom collapsible trigger sprayer bottles these will be perfect for poolside, the beach and boating. Customize these awesome giveaways with your Free business logo and no set up fees. These are just absolutely fabulous gifts and they're cheap promos you can budget in for your company.
Just view our website and get some ideas for your roll up bottle choice, you'll for sure find some unique choices for your marketing logo. Call us or email us here at Executive Advertising and we'll help you in your trendy water bottle buying this year, they truly make the best promotional gift for everyone.