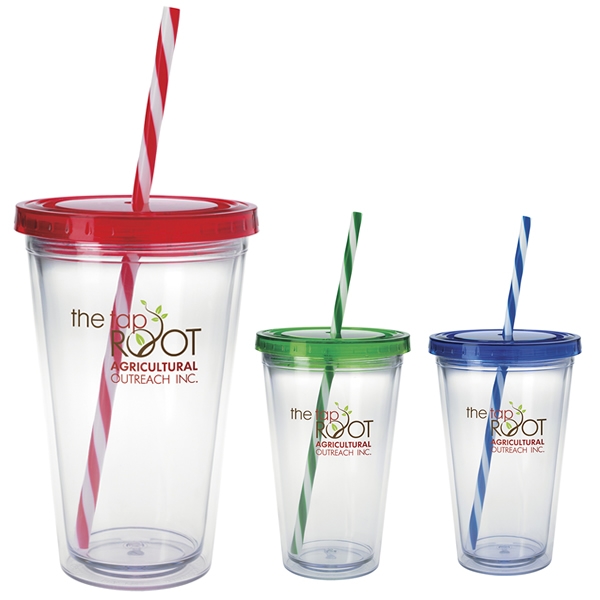 The New Advertising Trend Started by Starbucks©Over the past decade the trend of iced mochas has grown in popularity, especially in the summer. Now that the addiction has had time to set in and the trend has started, we have the needs to make these delicious ice cold drinks on our own, with our own coffee/espresso maker.
Thus, the needs for branding your own Double Wall Plastic Tumbler is available and ready for advertising. The Advertising Double Wall Plastic Tumbler with Straw is already THE new most popular item in 2011. Most of our warehouses are already selling out extremely fast.
Double Walled Tumbler with Straws, Really That Popular?
YES. It's not even summertime yet and a lot of our warehouse are our of stock in most colors! Even thought these cold drink tumblers are available in several color, the most popular is a CLEAR choice! That is the clear tumblers are the best sellers so far, sometime it just goes to show that simple is better. If you want to be creative, checkout the 16oz Double Wall Tumbler with Straw – this particular item has the choice of colored straws!
These items are traditional designed for cold liquids but can be used for warm liquids as well. These tumblers do come with a screw on lid to ensure that if your drink hits the floor you wont' look all of your iced mocha! The acrylic straw has a small lip at the bottom, designed to stop the straw from being removed from the lid, so you can literally pick up your drink by only holding on to the straw.
Of all of the Double Wall Acrylic Tumblers with Straws that we offer, we only sell one that can be upgrade to accommodate a Full Color Digital Printed Logo, and that is the 16oz Victory Tumbler with Straw. For just an up-charge of $.75 you we'll print your artwork or company logo with Full Color Digital Printing. If any of you every try to price printing your logo in full color you'll run into setup fees from anywhere from $70-$200!! That's crazy! The Executive Advertising offers all of their promotional drinkware without charging setup fees, even on Full Color Digital items.