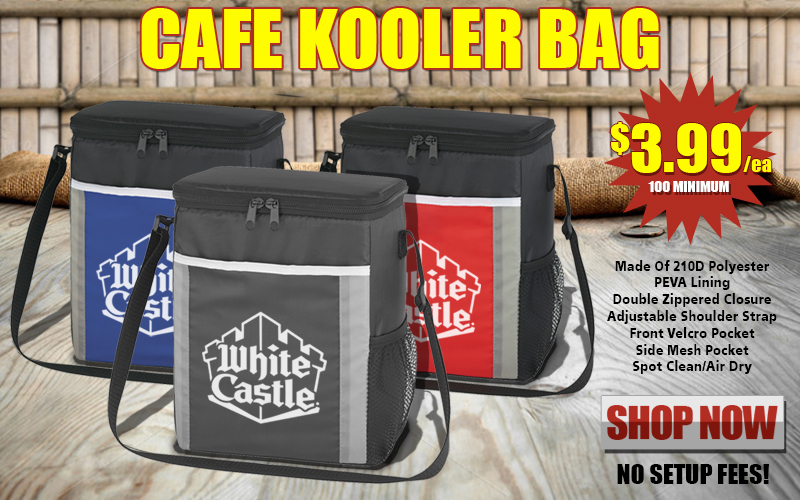 Check Out This Deal On Custom Cafe Kooler Bags: Take your brand outdoors with our promotional kooler bags. If you have been looking for an item that will promote your brand and be useful to clients, then you've come to the right place for choices in our imprinted kooler bags. Logo kooler bags will make a great employee gift, people use them at outdoor parties, pools, vacations, beaches, schools and simply packing their lunch and snacks for work.
Our custom cafe kooler bags are on sale for $3.99/each and of course come with your free logo with no set up fees. The custom kooler bags will be the biggest hit in the summer, but can be used year around! You can have your logo or message printed on this beautiful large imprint area on front of the bag. Any age or gender will find these kooler bags to be very appealing to use for along time to come.
Our advertising kooler bags come with adjustable shoulder straps, double zippered closure, front velcro pocket, side mesh pocket and huge area to store all your lunch, drinks and goodies. These branded lunch bags would be a great gift idea if having summer events or company competitions to win prizes.
You'll always have fresh food for the whole day when you purchase branded kooler bags from Executive Advertising, so shop now for fantastic business kooler lunch bags for your name and logo. Let's say you're planning a day at the park or lake, our promo kooler bags are going to come in handy, for packing lunch, drinks and snacks, this helps you to keep your plans all day without canceling.
So check out our wide range of kooler bags and let us know how you want them customized. Teachers would love these lunch bags imprinted with the school name. Advertising kooler bags will be used all the time, so show your competitors a perfect way to advertise your logo all the time.