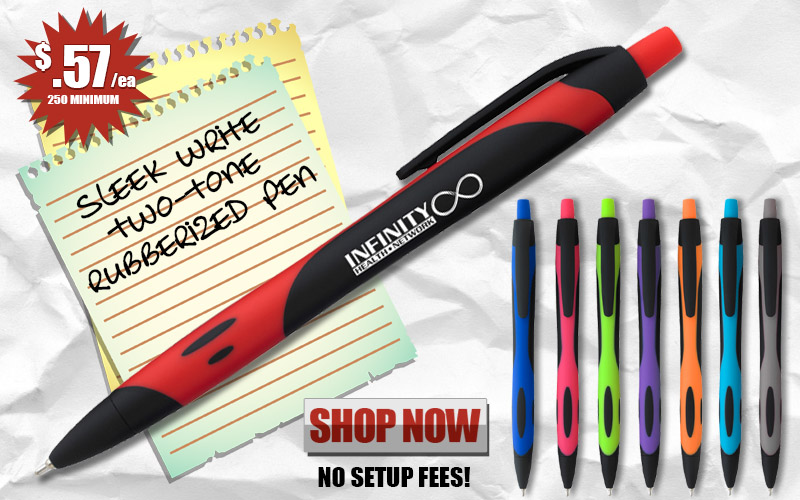 Personalize Your Brand On Sleek Two-Tone Rubberized Pens: Our custom two tone rubberized pen is on sale now for $0.57/each with your free logo. This clicker pen has a smooth rubber finish, plunger action and sleek write low viscosity ink. You can customize these pens now with your office logo with no set up fees. Minimum order of only 250 bulk for your business logo, stock up and handout to all your clients and new clients.
Your brand matters the whole year through, you can keep it in the minds of clients and new clients with our promotional pens. We wanted to have a great pen choice available to you at a special cost on sale. It has a perfect feel and look you need for your company logo. See the amazing two tone colors to choose from, like black w/lime green, black w/red, black w/orange and more combinations available.
Imprinted pens are used everyday in offices, schools, colleges, banks and I would say all businesses. It's what we use to get things done on a daily basis of writing and conducting business. So in this case everybody needs pens and want free pens handed to them as gifts. They win with a free pen and you win with keeping your advertising logo out there. So customize this marketing grip pen with your business name and logo while it's at a special price.
Have these advertising pens ready for your clients because this deal won't last forever. We can help you with any questions you may have about this pen or any of our pen choices, just simply contact our sales team and we'll help you with logo or even color questions or simply anything at all. Thank you all for your business!