Have Your Morning Cup Of Coffee In Our Promotional Coffee Mugs: We know all about that important cup of coffee that you have to have every morning. It's the first thing on my mind each morning as well! Custom coffee mugs have been a popular promotional item for years now!
It has probably always been the first thing a business will brand with their company logo to help promote their business name, besides branding the imprinted pen. Why is the promotional mug so important and popular? It is used several times a day by the coffee lovers of the world! A lot of people do not even consider starting their day unless they have that cup of coffee first.
So as a business, if you want to gift your customers with a special advertising gift that will be used all the time and get them remembering you always, then gift them with personalized coffee mugs. Here at The Executive Advertising we specialize in popular coffee mugs for your branded logo! We carry all the latest styles and colors of imprinted coffee cups.
Check out some of these very new promotional coffee mugs for upgrading your employees free business mugs. Promotional 15oz Shiny Bistro Color Mug is the simple shiny advertising mug, will be great for any office! These custom mugs will be fantastic for free client and employee handouts. Promotional 17oz Big Champion Mug this is probably for the spunky but creative coffee drinker! They love having fun and different to advertise their business logo. This is the fun party coffee mug and perfect for a large cup of coffee.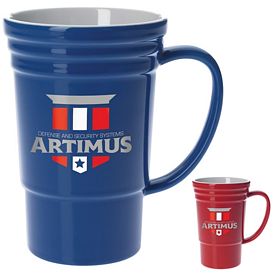 Promotional 18oz Ceramic Rider Travel Mug this will be a hit if you travel all the time or on the go! Fill coffee mug and cover with lid tightly to keep coffee hot and fresh. There are so many more choices of branded mugs on our website, so now you can have your cup of coffee just the way you want it, when your order customized coffee mugs from The Executive Advertising!
Give everyone the simple popular product of personalized mugs and see the attention your company logo will get! You'll keep your name out there all the time with useful advertising promo mugs. There will not be any set up fees on our logo coffee mug choices, they are already at a great price for your company budget. So get a great useful gift now and order company coffee mugs and gain new clients this year! You'll defiantly see that marketing with coffee mugs is a perfect idea for your business, just follow our pin board on Pinterest here: marketing with coffee mugs