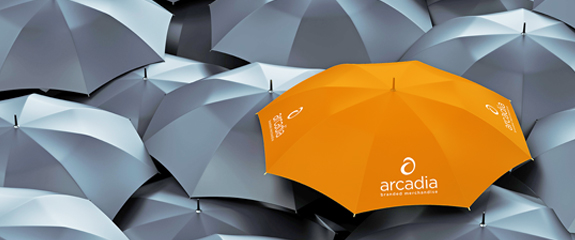 Why You Need Promotional Umbrellas: Get ready for more rainy weather sooner than later with the fall season approaching! Time to think of a business gift that'll be very useful and will have smart advertising of your business name. Everyone needs personalized umbrellas to handout to their clients!
Custom umbrellas are carried around by people on a daily basis, in their car, bag and suitcase. They help protect you from the rain and sun. Our logo umbrellas are very important to have. Let Executive Advertising get your imprinted umbrellas ready for your next company giveaway!
You won't believe all of our choices in custom umbrellas, lots of sizes and colors for your business logo. Promotional umbrellas can be one of the best marketing tools around, they stand out in the crowds and show off your 1-Color free logo big and boldly.
You can have one of the best advertising walking billboards with customized umbrellas. Let us here at Executive Advertising get your bulk of branded umbrellas ready for your next event. Logo umbrellas are great budget promos for your wallet.
You won't have to second guess the branded umbrella when buying, you can buy a real cheap product or spend a little more and get the promotional umbrella that will last forever. So be there for your clients rain or shine and customize our umbrellas or your next personalized gift!