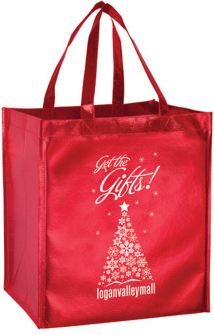 Custom Shopping Totes & Black Friday: One of the busiest shopping days each year has arrived again! This Friday Nov. 25th will be the biggest shopping day of the year! This is also a great day of advertising and marketing your brand! From signs, banners, sales to clothing and shopping totes, this is the largest day your business logo could be noticed all year!
If you're looking to market your name during the holiday season this year, you will do perfectly with our promotional shopping totes. Your name and logo will be customized for Free with No Set Up Fees! These imprinted bags are fantastic for shopping and keeping things together without using tons of plastic bags.
You can have them for resale or even give them away as a free gift to customers coming in to shop, get them while they last advertising! With the holidays here, colors such as red, gold, silver, blue and green will be great for advertising your name or imprinting a special message.
We have over a month of the holiday season among us so get your branded shopping bags and totes ready for customers. View our website for ideas such as non woven, shiny metallic and all sizes. Make your trips to and from the car a whole lot easier with our promo bags and totes.
Our personalized totes are perfect for grocery shopping and traveling, they will be the best marketing tool you could ask for now for your business due to all the events going on. So contact us now or go on our website and order your bulk of custom shopping totes for your company and company name.