Why You Need Promotional Grocery Bags: We can't express how much custom grocery bags or totes are awesome! These branded bags hold so much more than those plastic bags.
We have a variety of colors and materials to choose from for your branded logo. Our grocery totes and bag options are sold in bulk for a fantastic price. These promo items are one of the best sold around!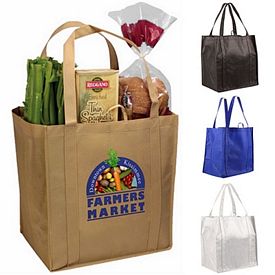 Never make a million trips to the car again, the trend of promotional totes is taking over, going to the grocery, farmer's market, library, working and traveling. Our advertising totes are holding so much and marketing the business name all at the same time.
Just keep some of your custom bags in your car trunk, you'll  never be without them. There is a 24 Hour Rush Service on the promotional grocery bags. We will not charge any setup fees for a customized company logo. Add a message or slogan to your bags as well, and pass these out for awesome office gifts.
If you are looking for certain grocery bags to try, click on our bags and totes options on our website, you'll see all material options, such as insulated, laminated, two tone, metallic and even Eco-Friendly. The promotional Eco Carry insulated shopping bags, they're made of sturdy polypropylene and insulated lining.
The features include a large front pocket for grocery list and coupons, dual reinforced 22 inch carrying handles, large side and bottom gussets, and a top zipper closure. The available colors are lime, dark green, royal blue, red, or black. There is a free one color logo imprint, free artwork E-proof and no set up fees ever! So the next time you're at the store and the person bagging asks, is plastic bags ok? You say No Thanks I have my own custom grocery bag!