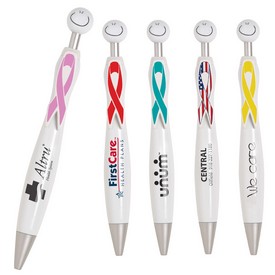 Supportive Pink Products For Your Logo: Each year in October tons of events take place around the world to show the "pink power" of National Breast Cancer Awareness Month! Some events such as running and walking events and even fundraisers are held for the special cause of fighting against breast cancer and finding "the cure".
Throughout the whole month of October you will see a lot of people wearing pink and passing out pink products to show there support of the disease! So in that case you need some of our imprinted awareness products  here at The Executive Advertising! This is a great time for companies to get their brand involved and show they care!
And what better way to do that than having some of the most special pink promotional products customized with your name or logo and handout as free gifts for the special cause. We want you to know all about are products ahead of time for your breast cancer awareness events that you may be trying to get planned come this October. Here at The Executive we want to help you make your event meaningful and memorable by having some of the most popular products available to you.
Please let us know how we can help assist you in choosing the best custom pink products for your event or campaign this year! You defiantly may want to check with our customer service first for these products can be limit to stock due to popularity. Check out some of our pink ideas for your logo with No Set Up Fees! And that's not all, we have so many pink products on our website for you to consider if you want something different this year and the low prices you like too!
Need even more ideas? We have even newer awareness promos this year to consider selecting for your event, see here: promotional ribbon shaped products.  We have a great pin board on pinterest full of pink product ideas for showing awareness this year! Showing support is awesome and showing your "pink power" with our advertising products come October will get you remembered as an awesome team and company too!