Get Advertising March Madness Gifts Ready: Starting very soon the excitement of basketball March Madness will begin with all the teams playing for the championship. This is a great time to promote your business logo on our custom basketball promos that are awesome for March Madness 2019!
We have lots of basketball promos to get your office parties started, we always express every year how much fun you can get into with March Madness and advertising your brand. Let's look at all the ideas that will make this sporting event even more fun!
Our b-ball stress relievers, key chains, bottle openers, sticky notes and more are all orange, basketball shaped and customized with your business, school or brand info. Then passed out for free to coworkers or given to employees for prizes and gifts. You know there will be plenty of bets and brackets making their way around the office!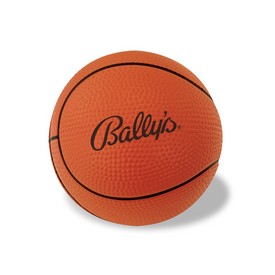 So let's attract attention to your business by placing your 1-Color FREE logo or branded message on our basketball themed promotions, we'll get your bulk of marketing items ready and sent to you on time for all your parties. Get into the hype of March Madness and get your company ready!
Time to "Think Fast" for ordering our basketball products for March Madness, everyone will be talking about the craziness coming up in March and all the excitement that goes along with it, the best part is having handouts for your parties, employees and potential clients. Imprinting all your b-ball promo choices with your business info will put you at the top of the game for March Madness week.